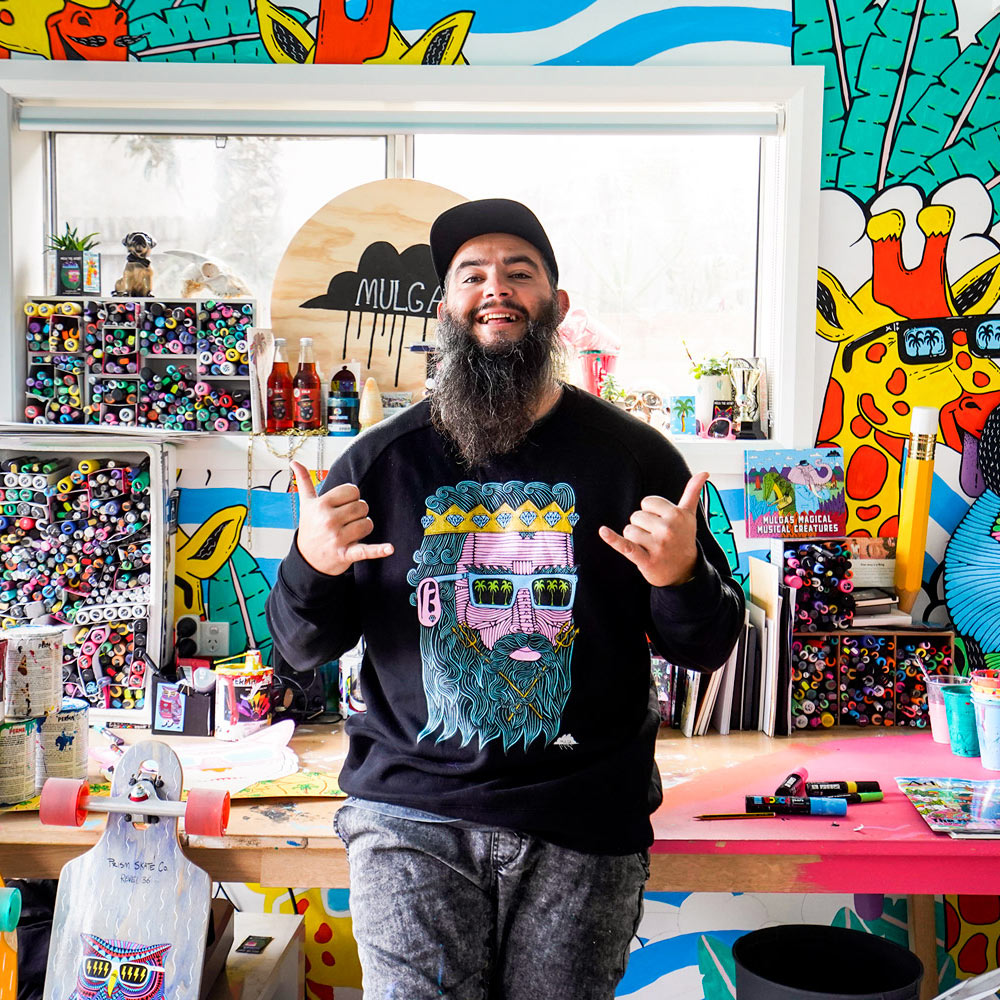 Mulga is Joel Moore, renowned Australian street artist, freelance illustrator, muralist, published author and designer of the much loved Mulga product range. Known for his unique Australian creations and signature style of intricate line work and bright colours, Mulga's creations grace walls and objects across the world.
After having his first art show and launching his art career in 2012 he left his finance job in 2014 to become a full time art dude. Mulga loves the beach and surfing and his summer inspired designs bring to life a world where tropical bearded men run rampant, tigers wear diamond sunglasses and gorillas rule the world like some kind of funky planet of the apes.
Since embarking on his art career Mulga has exhibited in over 60 art shows, published 2 books, painted thousands of artworks and murals, won multiple awards and worked with a multitude of big brands such as Samsung, Coca Cola, Red Bull, Microsoft, Kelloggs, Lego, Telstra, Uniqlo, Xbox, BMW, Toyota, Subaru, Hyundai, Havaianas, Speedo, Kinder, Youtube, Snapchat, Sea-Doo, Lenovo, MTV, Adidas, Slurpee, Jagermeister, Carlton, OPSM, Sunglass Hut, Universal Music, Universal Pictures, Sony Pictures, ABC, Mambo, Berroca, Paypal, ING, Platypus Shoes, Budgy Smuggler and Maxwell and Williams.
Mulga enjoys writing a weird poem for his creations because who doesn't like a weird poem and he reckons it's a neato way to make people smile.
******
The Gorilla Muralist: The Story of Mulga
Mulga, also known as Joel Moore, is a full-time artist who resides in Sydney, Australia with his wife, Sarah, and three children. He has been dedicated to the art world since 2012, creating murals, collaborating with big brands, authoring picture books, and designing merchandise sold in his online store, Mulga the Artist.
Mulga also licenses his artwork on various products with renowned brands.
Mulga has been drawing since school and during this time his addiction to doodling developed and the margins of his notebooks and textbooks have never recovered. Although a shy guy, Mulga's art talent became evident when his female classmates started to take notice of him in art classes.
During these school years, Mulga contemplated a career in art but hesitated to pursue it due to the perceived difficulty in making a decent living as an artist. Instead, he followed his passion for not being poor and studied finance at university. Mulga received his Bachelor's degree in Economics and worked as a paraplanner in financial planning before venturing into the art world. Despite his finance job, he continued to draw on post-it notes when he should have been working, it was a sign of things to come.
Mulga really started his journey as an artist by capturing his doodles and sketches and posting them regularly on his blog, mulgasroom.blogspot.com, starting in 2010.
By 2012 his artwork started gaining attention, leading to his first significant break, an art exhibition at Space 44, a small art gallery in his hometown of Cronulla. Mulga teamed up with his brother and hosted an art show called "Longbeards Anonymous Monkey Factory," which received positive feedback. At the art exhibition, he sold his first t-shirt, a screenprint of a bearded captain named Captain Monkey Pants.
Along with selling original artworks at his art show the t-shirts were quite the hit. To pursue his dream of having a job he loved and being his own boss, he started selling t-shirts at markets on weekends while working at his office job during the week. He joined markets near his home in 2012, then later shifted to Bondi markets, where he had a stall most every Sunday for two years.
During this period, Mulga hustled hard to showcase his art in group art shows, network, and meet people in the Sydney art scene. He painted his first mural at Bondi Beach in 2013 to get his artwork in front of more people. Since then, he has painted regularly on the art wall at Bondi Beach and currently has a mural of a bearded man with unicorns in his beard (Yani Unicorn Beard).
After two years of hosting his market stall on weekends things were going so swimmingly that Mulga was in a position to quit his day job and became a full-time artist. In addition to success in selling his art and merchandise at market stalls he quickly attracted the attention of big brands looking to collaborate with an artist that could offer something unique and different.
Over the years, Mulga has worked on countless creative projects, from painting murals and designing products to developing marketing campaigns and brand activations. He has collaborated with some of the world's biggest companies, including Samsung, Coca Cola, Red Bull, Microsoft, and Lego, to name a few.
Mulga's artwork has graced everything from Havaianas thongs (flip flops) to Speedo swimmers, and he has created murals for Red Bull in bars and offices. One of his national campaigns for Coca-Cola involved animating his art and painting murals in Brisbane, Sydney, and Melbourne.
Additionally, he has collaborated with Slurpee on artwork for their cups and has worked on numerous projects with Samsung, such as creating wallpapers for phones, various product launches, painting murals, artwork for a bus and even designing a Samsung Snapchat filter. He has painted a BMW, crafted Lego artworks and his art can be seen on a grain silo for Kellogg's.
Moreover, Mulga has painted over 70 murals in schools, brightening up the learning environment for children and inspiring their creativity.
In addition to his commercial work, Mulga has also exhibited his art in galleries and hosted workshops for aspiring artists. Today, Mulga's unique style and creative vision have made him a sought-after artist in Australia and around the world. His work has been featured in numerous publications, and he continues to push the boundaries of art and creativity with each new project.
Mulga's proudest achievement is being able to provide for his family by doing something that he loves and believes in. He continues to inspire others through workshops and his online presence, encouraging creativity and positivity in all aspects of life. Mulga's commitment to his craft and ability to bring joy and inspiration to others make him a force to be reckoned with in the art world.